Why walk?
Why walk? .....
well why not!
Many people over the decades have realised the benefits of walking.
And no more so than throughout the pandemic years of 2020 and 2021 when the lockdown protocols have provoked a lot of conversations about the benefits of walking. Just getting outdoors has contributed to the mental health and wellbeing of so many people.
Whilst walkers had to "go it alone" for most of the time, the "virtual" race or walking event took over. Walkers from all over the world jumped at the chance just to get out there and walk - for whatever the reason, whatever challenge, just what ever..... walkers went out and .. and just walked....
Race walking
why race walk?
Unlike other "types" of walking,
race walking is a technical athletic sport. It has rules and judges to ensure you comply with the rules.
Race walking is a very rewarding sport. Walking with a race walking/athletics club is about so much more than physical exercise. It's about joining a community that has the power to change your life.
And when it comes to long and ultra distance walkers like the Centurions then it is a very special family of walkers.
Benefits of race walking
cardiovascular - pulse and breathing are raised well above resting levels;
an advantage over running because there is none of the jarring through the feet, ankles, knees, hips and spine that can be the cause of so many running injuries.
Racewalking also offers opportunities to compete and to achieve national standing for people of all ages. No age discrimination!
Racewalking burns more calories per mile than regular walking as the straight leg technique forces you to use more muscles. You might use racewalking as a way to boost the intensity of your walking workouts. It can raise your heart rate from the moderate intensity level to the vigorous intensity level
.
But you don't have to be a competitive race walker to reap the benfits of walking.
The benefits of walking can actually be translated to many "types" of walking

more on what you can do to keep fit and healthy
From everyday experience, we know that people benefit physically, emotionally and mentally when they start to walk regularly.
Walking provides the opportunity to meet new people, expand social networks and connect people with their local environment and community or just to go out for a bit of peace and quiet.
Research says that walking -
gives you more energy and vitality: you can experience the open air and calm down;

also helps to combat or even diminish mental problems or complaints. Fresh air and exercise in a natural environment does do an awful lot of good. All you need to do is just go and explore your local park!




will make you feel better as result of walking outdoors - ie you end up in a better mood at the end of your walk! You can leave behind any daily troubles for a short time! Enjoy!

keeps your weight under control: tones the muscles, fights the flab...and all are obvious benefits. You can keep fit and mobile and active in a sensible way.

sleep better

run less risk on health problems (cancer, diabetes, heart and vascular diseases...)

increases self-confidence




..... and so much more!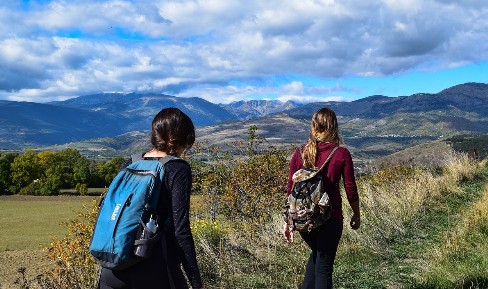 Nordic walking
This can be a great aid to many walkers. And there are many reasons why people want to try this method of walking especially for people with balance and stabilty problems.
No matter why people want to try nordic walking, there is a great incentive for the more competitive nordic walkers with the numerous competitions and record achieving races that are on offer,
power walking
power walking or "speed walking"
and not to be confused with race walking! ...
Power walking was, more or less, invented in the USA and then more or less ignored by the rest of the world.
The origins, in the 1990s, involved walking very fast around shopping malls in the US. Since then been transported to the outdoors.... and the benefits can be measured as the same or slightly higher than the benefits of recreational walking.
Basically, power walking can be described as follows....
an ideal sport for the building and the conservation of a good physical condition and an an efficient training for the strengthening of the body

;




creates a sense of satisfaction through effort and training;



probablly not a risky sport: there are no injuries by direct contact with a pavement or road surface;


offers a natural solution for the prevention of illnesses and in particular for respiratory diseases (but be aware of traffic pollution in cities);
can be a great aid to many walkers. And there are many reasons why people want to try this method of walking.

Power walking vs race walking
Race walking and power walking differ from each other in a technical sense.
Race walking is a competitive and highly technical style of walking that is performed in competitive settings
.
Power walking is walking at a faster pace than regular walking and is not done competitively. Power walkers use this style of walking for fitness rather than competition.
A major difference between race walking and power walking is the pace.
Power walking includes any pace that is faster than your regular walking pace- comfortable walking speed for men is about 3.3 mph.
read more about